ISO 9001:2015 Certification
Containment Service Providers Co Ltd is certified by the NSAI to I.S. EN ISO 9001:2015 standard.

ISO 9001:2015 specifies requirements for a quality management system when an organization:
Needs to demonstrate its ability to consistently provide products and services that meet customer and applicable statutory and regulatory requirements, and

Aims to enhance customer satisfaction through the effective application of the system, including processes for improvement of the system and the assurance of conformity to customer and applicable statutory and regulatory requirements.

All the requirements of ISO 9001:2015 are generic and are intended to be applicable to any organization, regardless of its type or size, or the products and services it provides.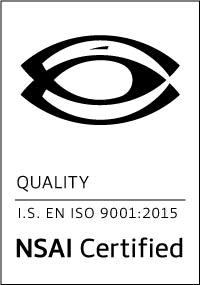 The NSAI is a dynamic organization using measures and standards to benefit society and give Irish enterprise a global advantage. NSAI enables innovation, promotes trade, facilitates fair competition and protects consumers through measurement accuracy and the development, promotion and application of standards.

NSAI serves the nation as an independent and impartial advocate of rigorous standards in all aspects of business practice and consumer protection. NSAI manages one of the State's largest networks of technical experts and facilitators, proudly pulling together for the common good.
​
In line with their beliefs, NSAI makes every effort to instil a justified confidence in their role and diverse services. At NSAI that confidence is generated by constantly upholding and striving to practice the six defined organisational values.
Unit 4, East Link Business Park,
Carrigtwohill, Co. Cork, T45 XH98, Ireland
+353 21 488 3615