ISO 9001:2015 Certification
Containment Service Providers Co Ltd is certified by the NSAI to I.S. EN ISO 9001:2015 standard.

ISO 9001:2015 specifies requirements for a quality management system when an organization:
Needs to demonstrate its ability to consistently provide products and services that meet customer and applicable statutory and regulatory requirements, and

Aims to enhance customer satisfaction through the effective application of the system, including processes for improvement of the system and the assurance of conformity to customer and applicable statutory and regulatory requirements.

All the requirements of ISO 9001:2015 are generic and are intended to be applicable to any organization, regardless of its type or size, or the products and services it provides.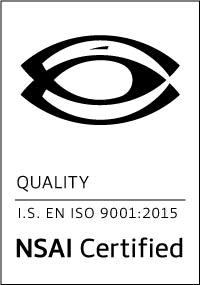 The NSAI is a dynamic organization using measures and standards to benefit society and give Irish enterprise a global advantage. NSAI enables innovation, promotes trade, facilitates fair competition and protects consumers through measurement accuracy and the development, promotion and application of standards.

NSAI serves the nation as an independent and impartial advocate of rigorous standards in all aspects of business practice and consumer protection. NSAI manages one of the State's largest networks of technical experts and facilitators, proudly pulling together for the common good.
​
In line with their beliefs, NSAI makes every effort to instil a justified confidence in their role and diverse services. At NSAI that confidence is generated by constantly upholding and striving to practice the six defined organisational values.
Containment Service Providers Co ltd performs external auditing on all primary suppliers. CSP has a regimented supplier approval process in place that requires suppliers both primary and secondary to undergo approval before being permitted to perform business activities with the company. This process has largely been developed with our clients and customers across the world. CSP works closely with our customers on bespoke projects that require input from our customers on what is required from their quality perspective. CSP keep the client informed of the supplier approval process right throughout the process where the customer can or could have a particular interest. CSP give full details of our suppliers to customers after a non-disclosure agreement is signed which permits the customer of performing their own audit investigation on any of our suppliers.
​
CSP welcomes virtual or site audits from our customers to either of our sites annually, this includes our HQ site in Carrigtwohill or our sister site in Little Island. Currently, with an ever-expanding customer base, CSP can undergo 5-10 audits annually.
​
CSP is ISO 9001:2015 accredited, which means that site audits for our Carrigtwohill and Little Island site are performed annually by the NSAI. Currently, the standard requires requalification every 3 years in which CSP last passed early in the year 2021 for the Carrigtwohill and Little Island site.